COVID-19 - Stay Safe With Martin's Wellness
For over 35 years, Martin's Wellness has been at the forefront of community care, providing advice and support to communities across Texas. All Martin's Wellness locations are now open to foot traffic and we welcome our customers back in to interact directly with our Pharmacists and Welleness Consultants. For the safety of our staff, we are requiring customers wear face masks and all of our staff will be wearing them also.
We also Encourage you to use our Curbside Service or our Free Delivery Service.
As things continue to progress, we want to assure you that customers' health is an absolute priority for us. Our team is working tirelessly in order to make sure that everyone is safe.
We encourage you to learn more about the Covid-19 virus itself here.
Contact-Free Delivery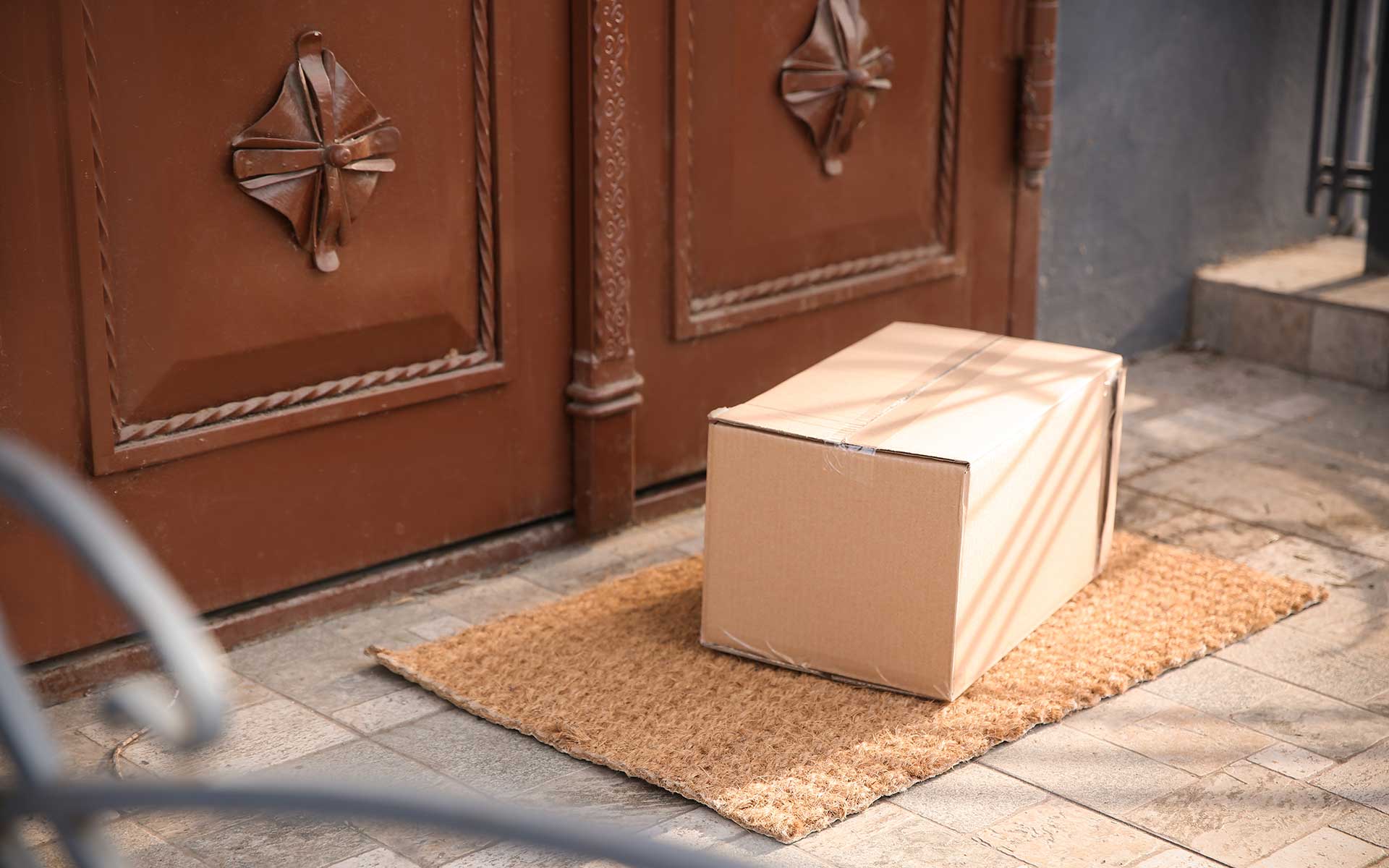 As a special precaution intended to increase the safety of everyone involved, Martin's Wellness now offers contact-free delivery that entails leaving the package on the porch, in front of the apartment, or at any other place that you specify in the order.
In addition to our standard free shipping offer for $50+ on all over-the-counter items, every customer within the area can get one free delivery per week.
This offer is available to everyone whose address is within a five-mile radius around our pharmacies.
Curbside Ordering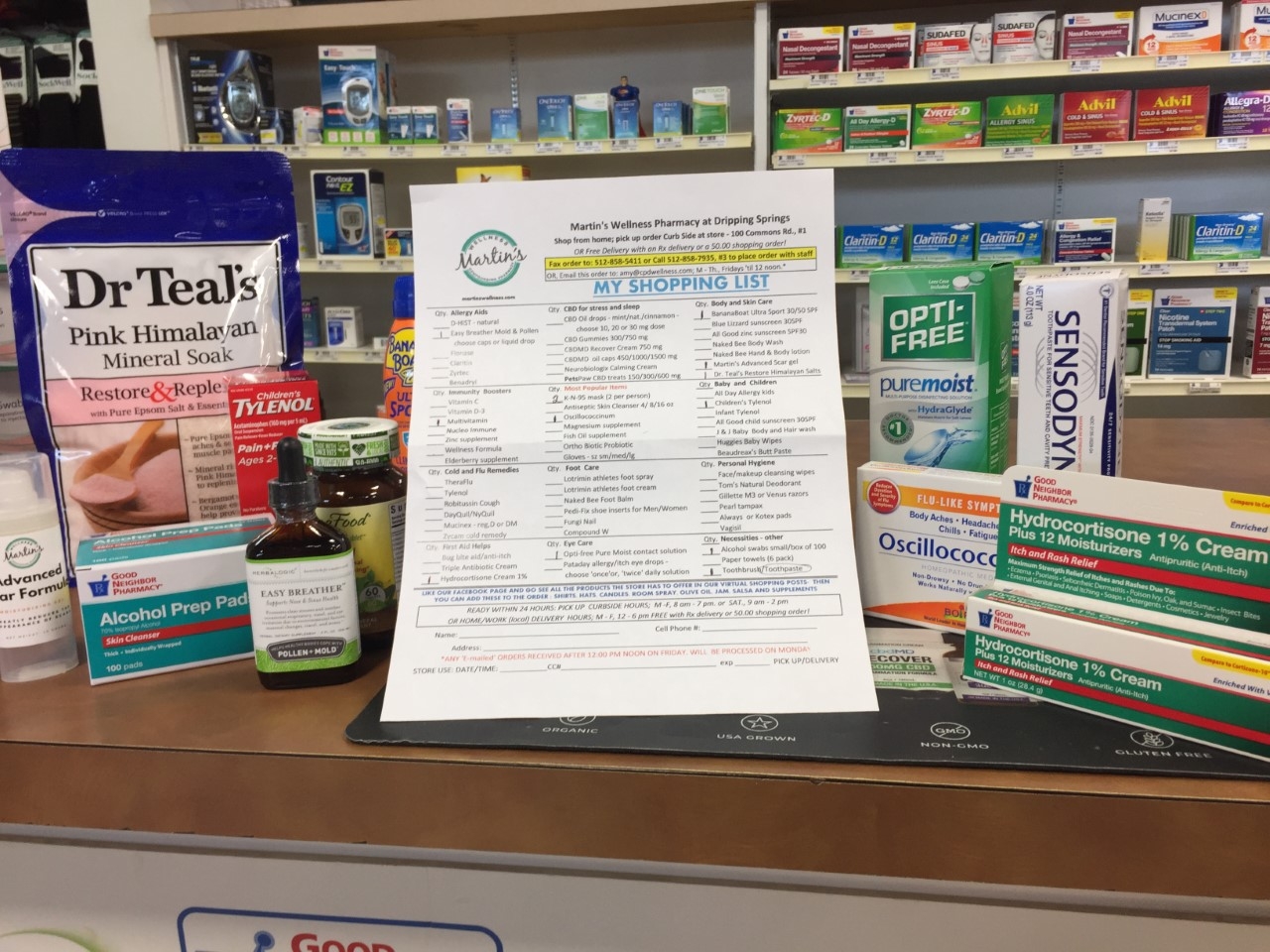 We offer curbside to go... use Martin's Shopping list to order items you need from the pharmacy. The list is a portion of what we have in the store, if you need an item not on the list just give us a call we are happy to help. To download list and place an order click here.
Online Ordering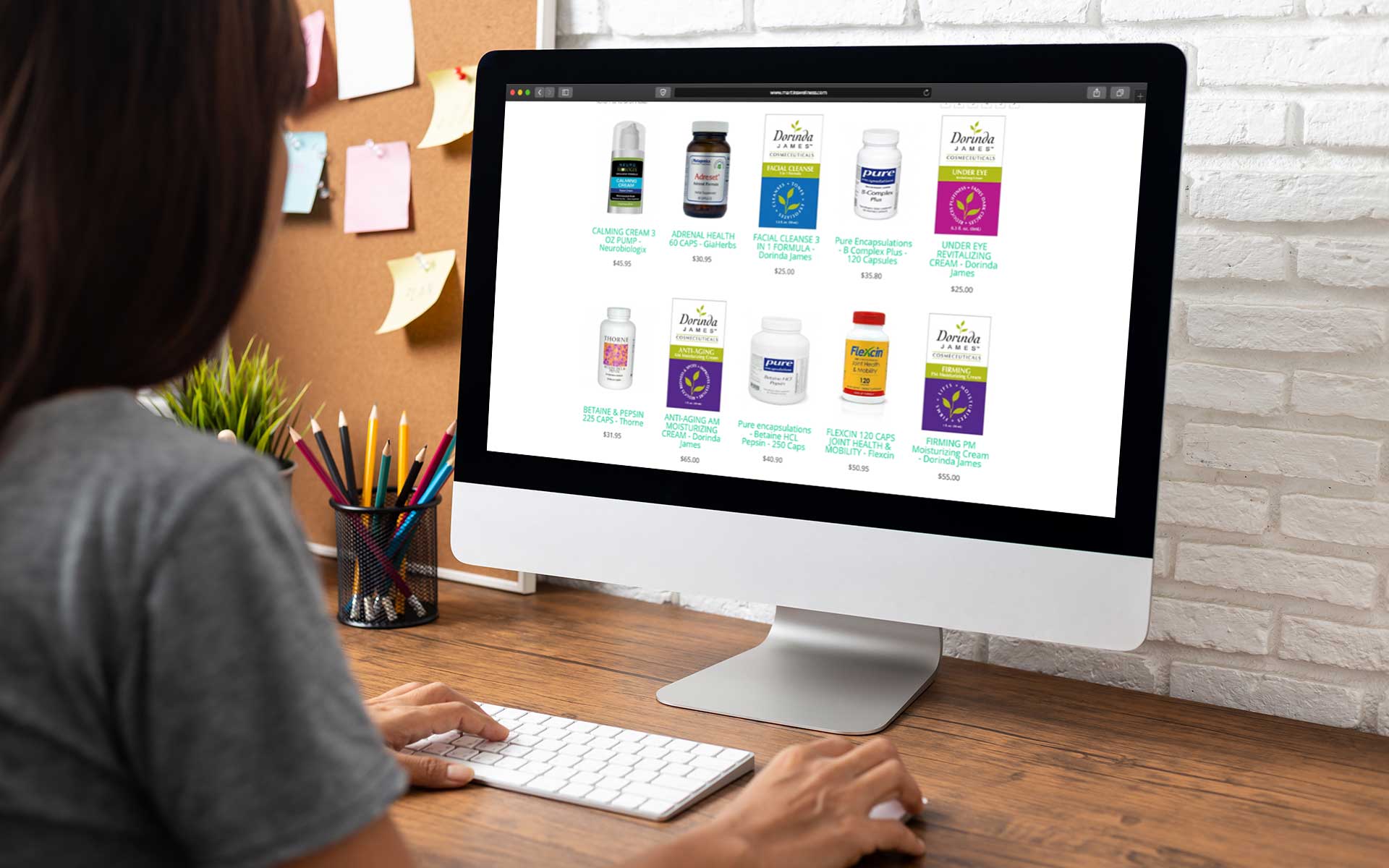 Health organizations around the world encourage people to stay at home in order to reduce the spread of coronavirus.
Due to this, we provide a convenient alternative to pharmacy visits and encourage customers to order through our online store. Martin's Wellness website ordering is quick and easy and will get your orders delivered right to your doorstep.
For those in need of a restock, please look for a 'refill' button at the top right corner of our homepage and select the nearest pharmacy.
Live Stream Ordering
Online ordering is now made even easier with virtual shopping. In the coming days, we will be live streaming regularly from the Lamar Plaza Drug Store and Dripping Springs Compounding Pharmacy. Follow the respective store Facebook page and tune in for a live shopping experience.
For the latest updates, make sure to connect with us by following our Dripping Springs Pharmacy as well as Martin's Wellness instagram account.
Wellness Consultants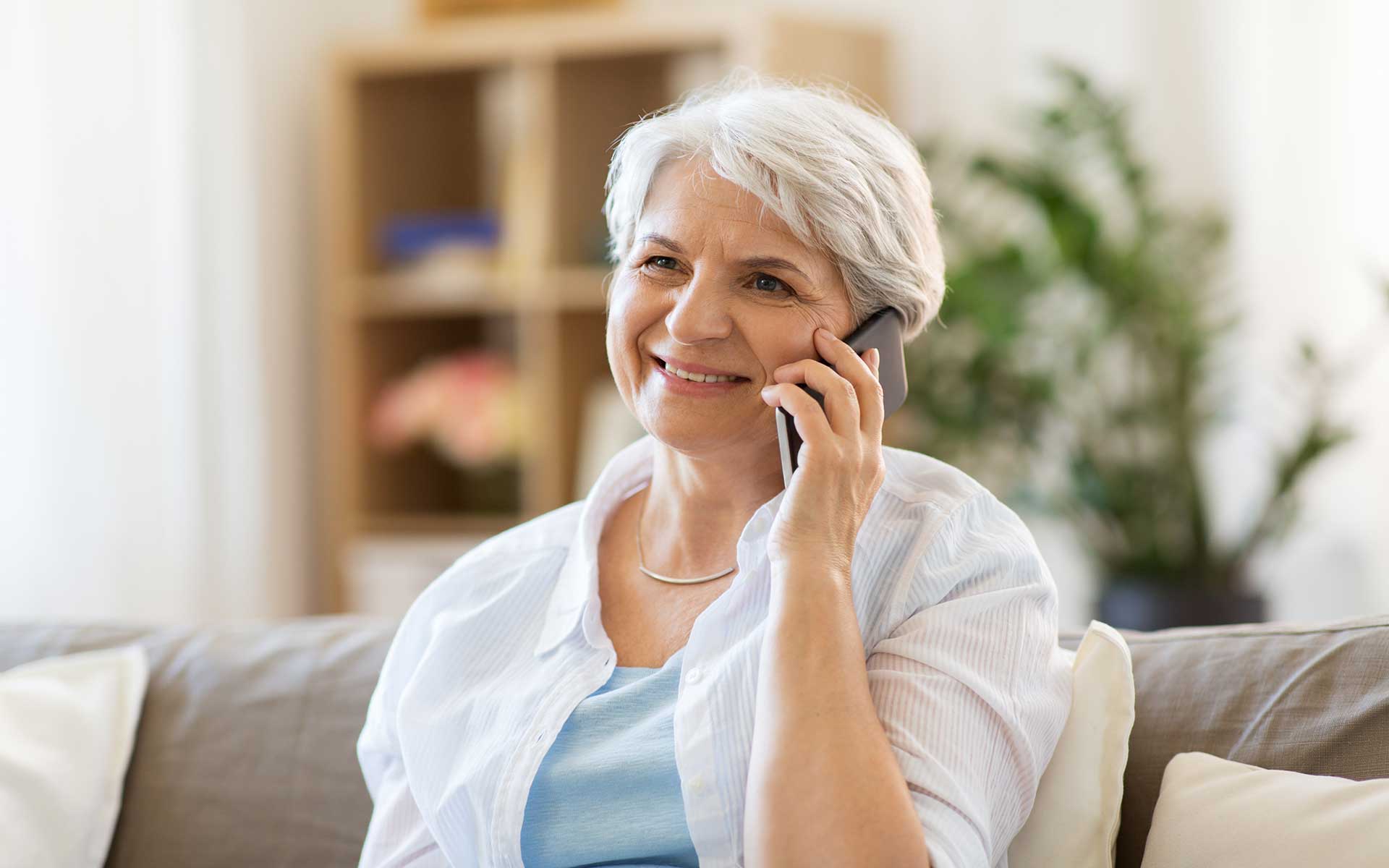 Each day, social media is flooded with information regarding how to protect ourselves and how to act if we suspect that we've been exposed to the virus. Not all information comes from reliable sources and some can be misleading.
Our team of wellness consultants and experts is available and eager to help answer all your questions. We encourage you to give us a call at: (512) 442 - 6777 (Lamar Drug Store) or (512) 858-7935 (Dripping Springs Pharmacy) if you are feeling under the weather or simply need advice regarding how to stay safe during this period.
Immunity Boosters
There are a few other things you can do to prevent from getting sick besides avoiding situations in which you can get exposed to coronavirus. Improving the immune system response is one of the steps toward staying healthy.
Martin's Wellness offers immunity boosters that can help maintain a regular intake of recommended doses of vitamins and minerals. Well known sources of vitamins and minerals that can boost our health are Elderberry, Echinacea, Turkey tail mushrooms, and other mushroom blends. Other powerful supplements include Vitamin C, Vitamin D, Zinc, and Colostrum.
While the supplements are a good shield for creating the strongest body possible to fight off any potential infection or exposure, it is important to emphasize that they are not a cure.
Here are some products that are still available on our shelves, although this may change very quickly due to high demand:
Some of the mentioned products are available in-store only, and you can order them by calling us at (512) 442-6777 (Lamar Plaza pharmacy) or (512) 858-7935 (Dripping Springs pharmacy).
Check out the variety of other powerful formulas and supplements that can help your body protect itself in our online store.
Find Out More About Recommended Cold & Flu Products On Our Online Store
We have expanded our online store to include a category "Recommend Cold & Flu Products". This section goes along with many of our High-Quality Supplements and will provide you with all the necessary information regarding how you can boost your immune system and fight flu and colds.
Martin's Wellness Packs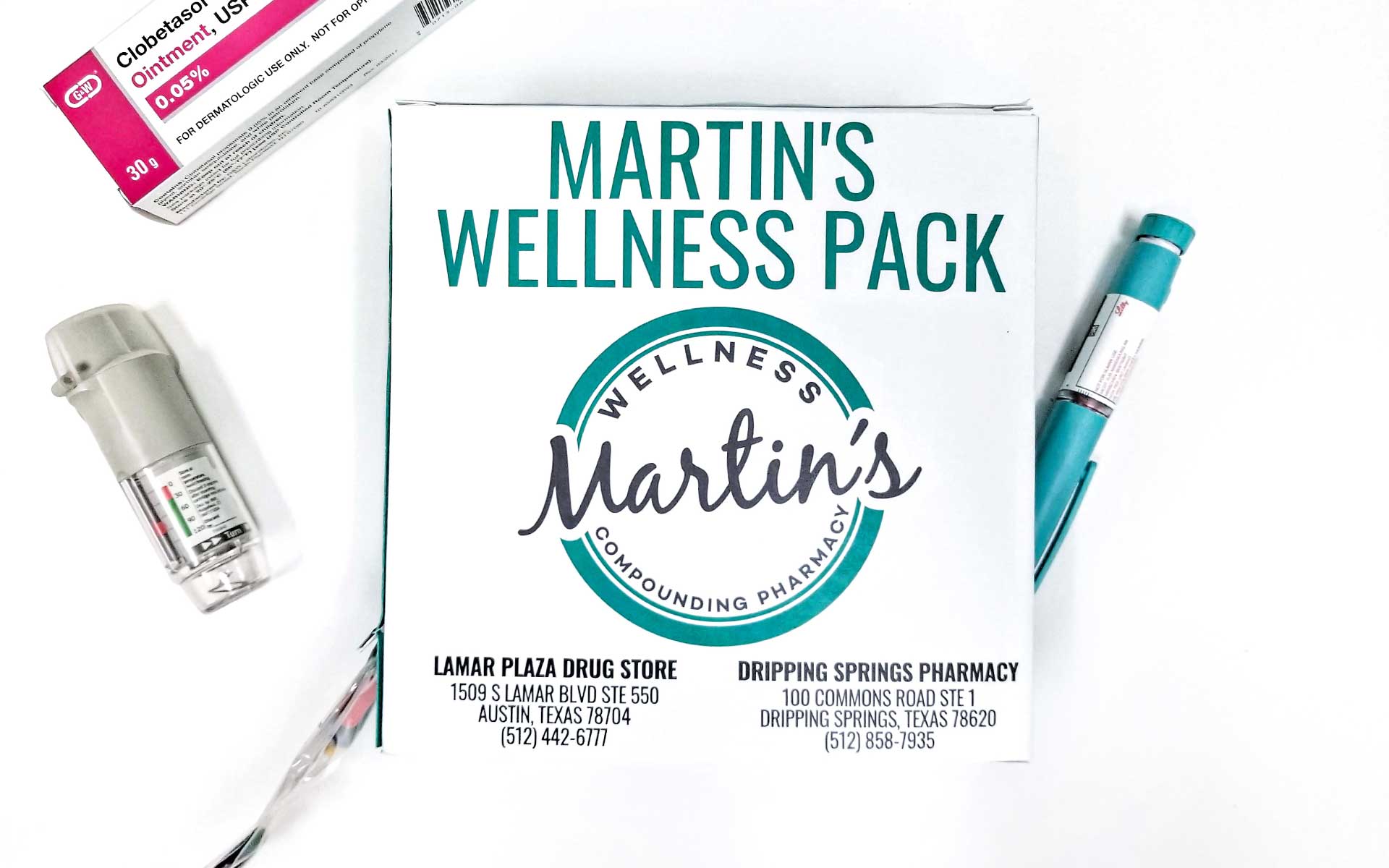 In addition, we offer Martin's Wellness Packs, which is a great solution for everyone in need of prescription drugs.
Our prepackaged medication dispensing method includes free packs and delivery and allows easy management while making sure that you always take the precise dosage. This offer is available as long as our supplies last. You won't need to keep a diary or pre-pack med containers yourself every day with our Daily Pill Pack.
For the time being, we also made sure to include a container of Martin's Wellness hand sanitizers (made in our compounding lab) per individual with each purchase!
Support for the First Responders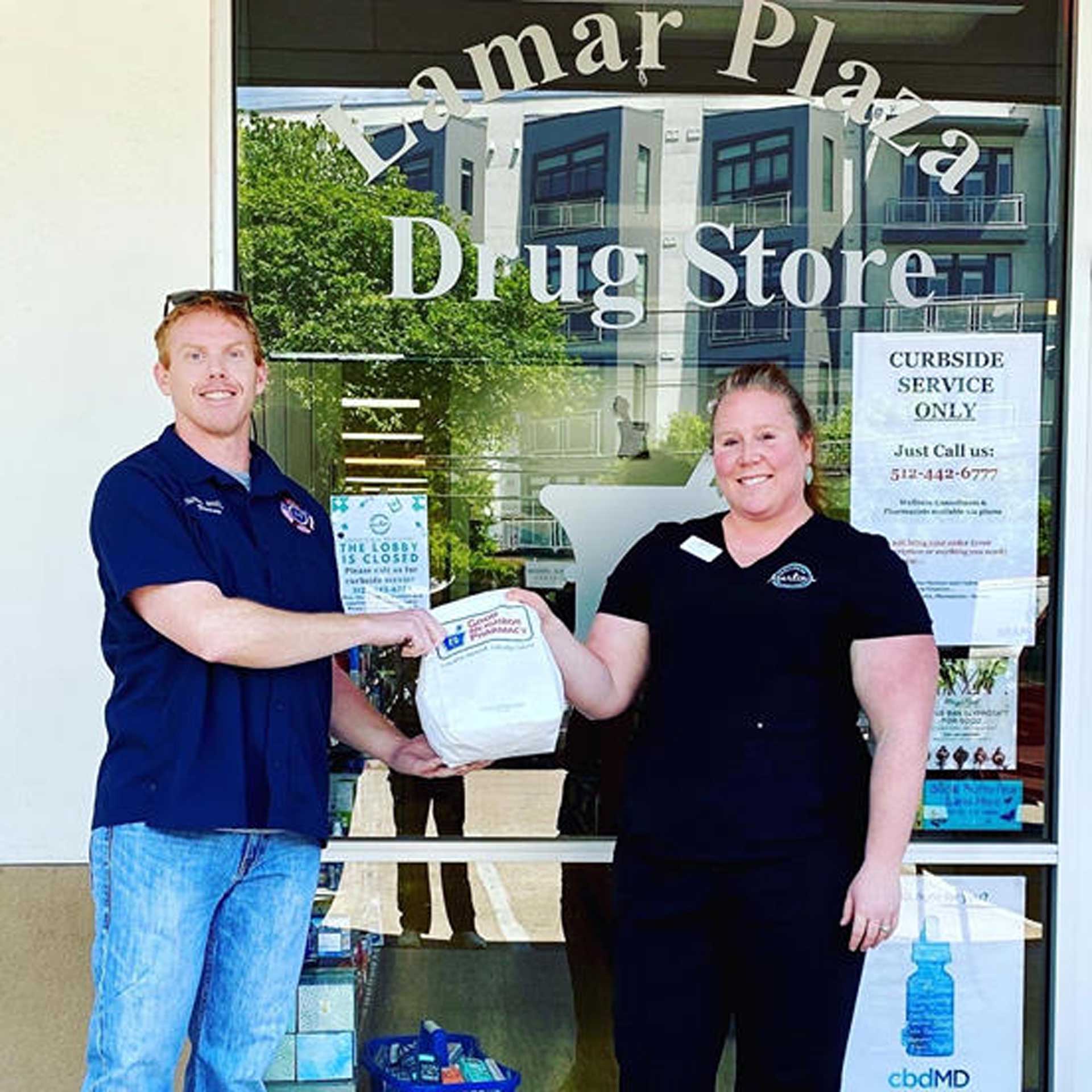 Ever since the recent shortage of disinfectants, our community's emergency responders have been facing limited availability of hand sanitizers. Due to this, we made sure to source high-quality ingredients and concoct alcohol-based hand sanitizers in our compounding pharmacies.
The consignment of pharmaceutical-grade hand disinfectants has been donated to Lake Travis Fire Fighters. Not only are we grateful for the continuing commitment of the Austin area first responders to curb the spread of COVID-19, but we are also eager to help in any way we can.
Finally, we want to thank our customers for staying healthy and making educated decisions at a time where we are facing a very real and novel threat to our health and our healthcare systems. We are still here to help you through the coronavirus crisis and would like to aid in managing your well-being whenever necessary.
The situation with coronavirus is changing on a daily basis. We know that having the right advice is important for our customers, which is why we will be updating our Website and Social Media channels with up-to-date information in the coming weeks. Please make sure to keep an eye out for any updates that we post or send out in the newsletter.
And remember to follow us on Facebook for additional updates and live streams!
Remember that practicing good hygiene and social distancing can be an important preventative as well. Wash your hands. Cover your mouth when you cough or sneeze. Never forget, always be kind to one another and stay safe and healthy in the meantime!