What is Cat's Claw?
Cat's claw is a vine that grows in the rainforests of South and Central America and has been used as traditional medicine for centuries. Its hooks and talons look like the claws of a cat climbing a tree, hence its name. Cat's claw, or Uña de Gato, is sometimes referred to as the "life-giving vine of Peru". Its use dates back 2,000 years where the indigenous people of the Amazon rainforest used it to ward off disease. Medicine is made from its roots and bark.
Cat's Claw Health Benefits
Cat's claw is most commonly used for treating rheumatoid and osteoarthritis and gastrointestinal disease. It is also known to be an immunomodulator, meaning it can help regulate the immune system or boost its performance. Cat's claw has been studied on arthritis, Lyme's disease, cancer, HIV, Crohn's disease, multiple sclerosis, endometriosis, kidney problems, and Alzheimer's disease. It is an effective anti-inflammatory, an antioxidant, and an immune tincture.
According to a clinical trial in which 27 male respondents used 700 mg of the cat's claw extract over the course of 2 months, the cat's claw increases the white blood cell count. This makes cat claw an excellent ally in combating infections (including viral infections).
The group of chemical compounds in cat's claw known as glycosides has been the center of much of the research investigating how this plant may promote a healthy inflammatory response.The substance called oxindole alkaloids appears to be the key to understanding how cat's claw supports the optimal functioning of the immune system. They do this by increasing the activity of white blood cells. These are the key players in your immune team.
Cat's Claw Supplement Uses
Adding a cat's claw dietary supplement to your immune regiment will help boost the star players of your immune system and get your body in the zone to fight against potential infections. At Dripping Springs Pharmacy we carry Cat's Claw capsules by Pure Encapsulations and Cat's Claw liposomal liquid by Designs for Health. Stop in and speak with our wellness consultants about what supplements may be right for you.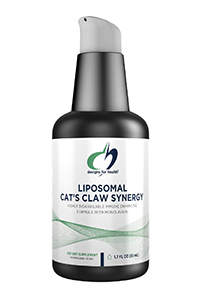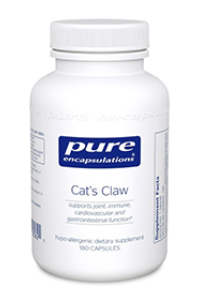 Shop Our Most Popular Supplements
Stay safe. Stay healthy.
Lauren Meyer CNS, MS