R1 PUMP Black Cherry Limeade (30 Servings)
Get Ready to PUMP UP with R1 Pump! Our R1 Pump formula combines powerful ingredients to help you get the most out of your workout. It supports nitric oxide production to help you achieve bigger, more vascular muscles. All you need to do is add water and get ready to exercise!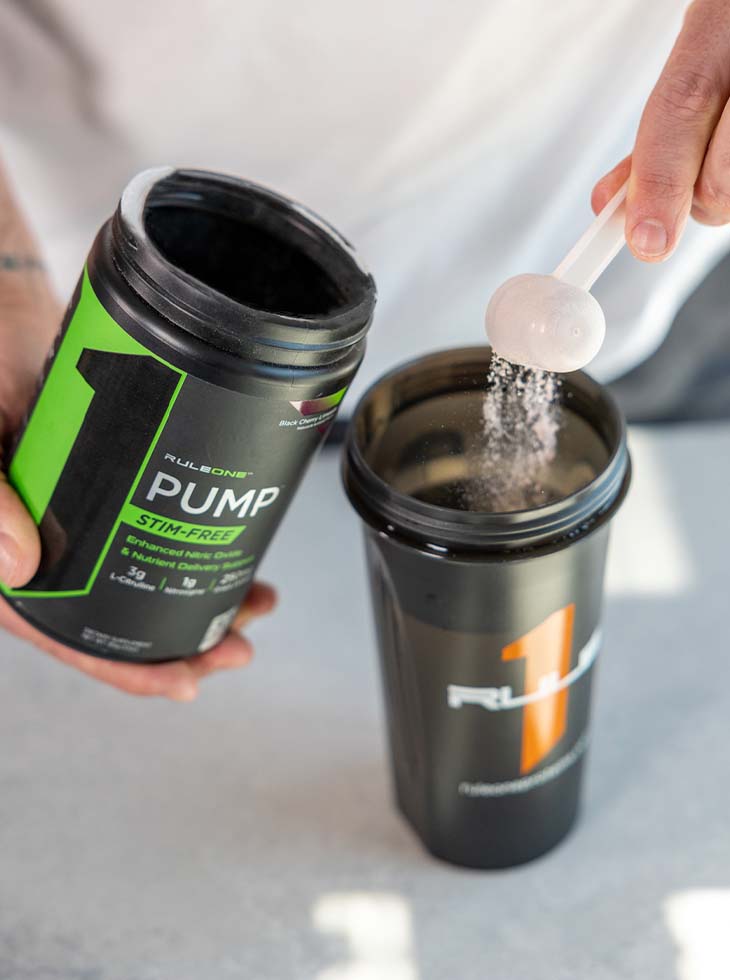 Elevate your workout performance with R1 Pump, a pre-workout powerhouse formulated with 16 active ingredients, including Nitrosigine®, S7™, and AstraGin®. This potent blend stimulates nitric oxide production and enhances vascularity, giving you powerful pumps and improved blood flow during exercise.
Ingredients:
16 Active Ingredients: R1 Pump packs a comprehensive formula with 16 active ingredients carefully selected to maximize your results.
Transparent Labeling: We believe in complete transparency, providing you with a clear view of what goes into each serving of R1 Pump.
3g of L-Citrulline†: This essential amino acid helps promote nitric oxide production, supporting improved blood flow and enhanced muscle pumps.
1g of Nitrosigine® Inositol-Arginine Silicate†: This patented ingredient combines inositol, arginine, and silicate to promote vasodilation, enhancing nutrient delivery to muscles.
50mg of Clinically Researched S7™ Blend†: This powerful blend of plant-based ingredients, such as green coffee bean extract and green tea extract, further amplifies nitric oxide production and enhances performance.
L-Norvaline and Taurine: These amino acids work synergistically to support blood flow and muscle endurance.
Whole Grape, Pine Bark, Astragalus, and Panax Extracts: These botanical extracts contribute to the overall effectiveness of R1 Pump, promoting optimal performance.
ZERO Sugar, Fillers, Stimulants, Banned Substances: R1 Pump is free from sugar, fillers, stimulants, and any banned substances, ensuring a clean and effective pre-workout experience.
ZERO Dairy, Soy, or Gluten: We understand the importance of catering to various dietary needs, so R1 Pump is free from dairy, soy, and gluten, making it suitable for a wide range of users.
Usage Instructions: For maximum results, take R1 Pump approximately 15-20 minutes before your workout to prime your body for an intense training session.
Mix one (1) scoop of R1 Pump with 8-12 ounces of cold water or your favorite sports drink.
Stir or shake the mixture until it is well-mixed.
Consume the mixture at least 20 minutes before exercise to experience the powerful effects of R1 Pump.
Unleash the potential of your workouts with R1 Pump. With its potent formula and zero sugar, fillers, stimulants, and banned substances, R1 Pump is the ultimate pre-workout choice for achieving unparalleled pumps and optimizing your performance.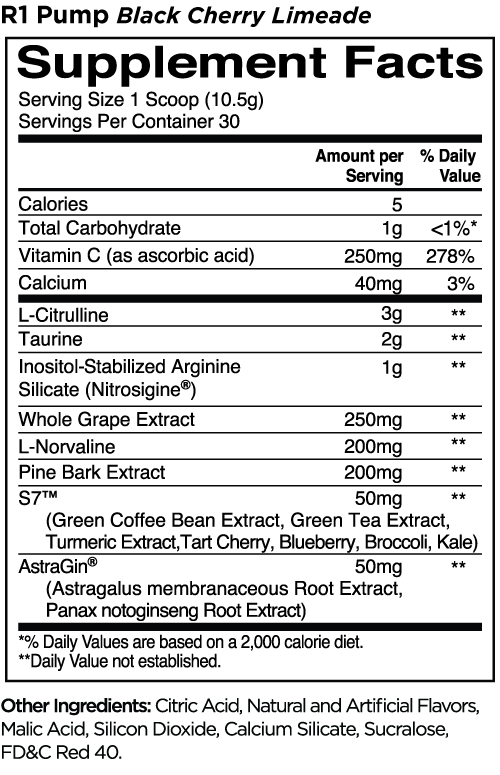 More Information

| | |
| --- | --- |
| Flavor | Black Cherry Limeade |
| Size | 30 Servings |