R1 Casein Chocolate Fudge (28 Servings / 2 lb)
This 25g Micellar Casein Protein Formula features Slow-Release Benefits, so you'll receive amino acids for hours after your workout. Get the protein you need to keep working long after your workout with this slow-release formulation.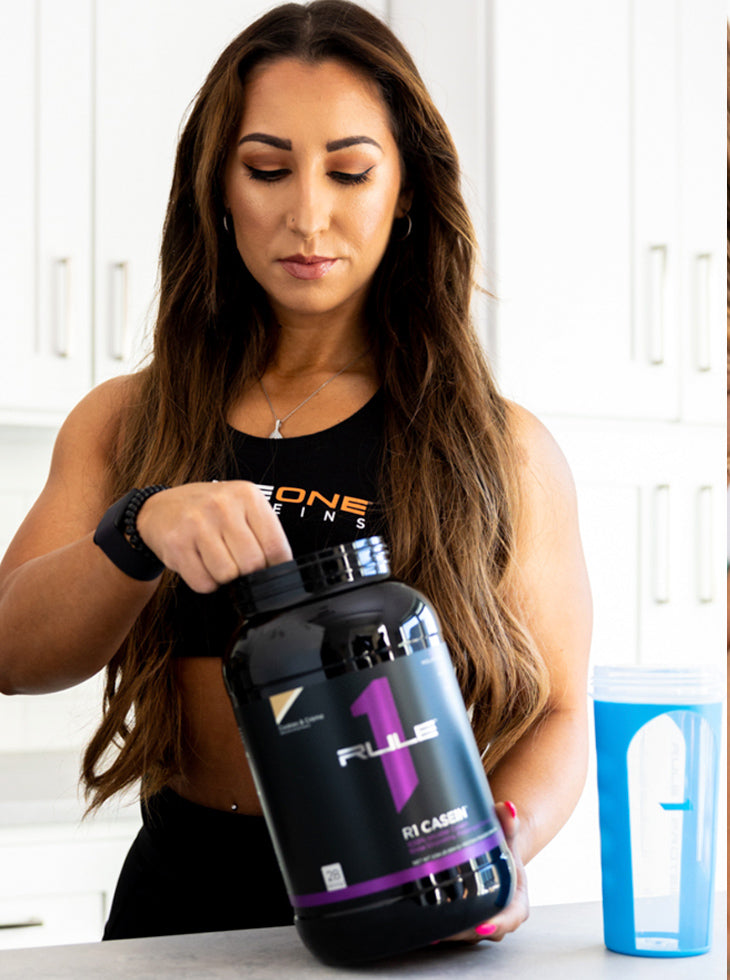 R1 Casein is your go-to protein for extended amino acid delivery. With its thick and satisfying texture, R1 Casein is perfect for consumption between meals or as an overnight protein. It provides a generous 25g of slow-release protein in each serving, ensuring sustained muscle nourishment throughout the night.
Ingredients:
100% Micellar Casein Protein: R1 Casein is exclusively made with micellar casein protein, a high-quality source known for its slow digestion and prolonged amino acid release.
Extended Amino Acid Delivery: The slow-release nature of R1 Casein allows for a steady supply of amino acids, which is particularly beneficial during periods of rest and recovery.
Feeds Muscles While You Sleep: R1 Casein supports muscle growth and repair, providing nourishment to your muscles as you sleep.
Naturally Rich in Essential Amino Acids (EAAs): R1 Casein contains all nine essential amino acids, including three branched-chain amino acids (BCAAs), which are crucial for muscle development and recovery.
Positive Negatives of R1 Casein's Extended-Delivery Formula:
ZERO Non-Casein Proteins: R1 Casein contains only pure micellar casein protein, ensuring you receive the full benefits of this slow-release protein.
ZERO Creamers: Our formula is free from creamers, focusing solely on providing high-quality protein.
ZERO Amino Spiking: Rest assured, R1 Casein is free from amino spiking, guaranteeing the integrity of the protein content.
ZERO Banned Substances: R1 Casein undergoes rigorous testing to ensure it is free from any banned substances, offering you peace of mind.
How to Use: To experience the benefits of R1 Casein, follow these simple steps:
Measure out one (1) heaping scoop of R1 Casein powder.
Mix it with 10-12 ounces of water, milk, or your preferred beverage in a shaker cup or 16-ounce glass.
Shake or stir the mixture until it is well-mixed.
For an extra smooth texture, use a blender on high speed.
Consume R1 Casein before bedtime or during extended periods of downtime, such as between meals, to support muscle recovery and growth.
Alternate Suggested Use: For a delicious twist, mix your Casein in a smoothie:
In a blender, add your favorite fruit and ice to the above mixture.
Mix the ingredients together.
Enjoy a protein-fortified fruit smoothie, packed with the benefits of R1 Casein!
R1 Casein is the ideal protein companion for overnight nourishment and sustained muscle support. With its pure micellar casein protein, extended amino acid delivery, and zero additives or banned substances, R1 Casein is the ultimate choice for maximizing your muscle recovery and growth.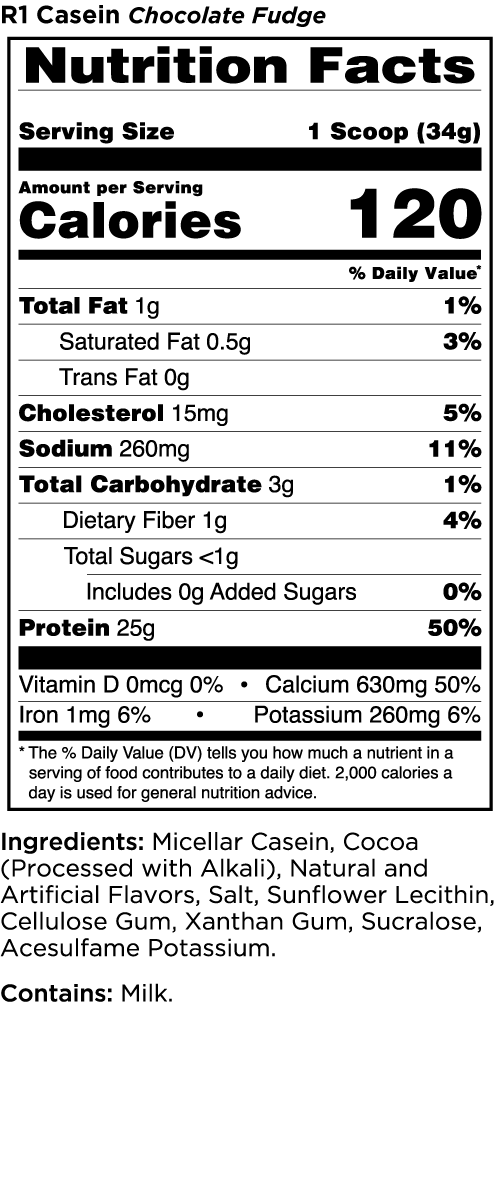 More Information

| | |
| --- | --- |
| Flavor | Chocolate Fudge |
| Size | 28 Servings / 2 lb |