Martin's Wellness is excited to spotlight one of the unique, cutting-edge brands we carry, Apex Energetics. This science-backed line of research-guided nutritional supplements addresses and supports the body's biochemical pathways and physiological processes with a truly unique approach to overall health and wellbeing.
About Apex Energetics
For more than 30 years, Apex Energetics has combined science-based research and healthcare professional insights to create their unique performance-based health products. Apex Energetics supplements are developed by leading experts in collaboration with a Scientific Advisory Board, which integrates a multitude of healthcare disciplines, including functional medicine, chiropractic principles, Eastern medicine, and the latest nutritional science.
Apex Energetics supplements are researched, formulated, and reviewed by this Scientific Advisory Board to address specific physiological processes, such as hepatic detoxification, brain chemistry, functional blood chemistry, and more.
Apex Energetics also follows significant quality assurance standards, which are much greater than the industry requires, to ensure all procedures and production comply with the "Current Good Manufacturing Practices" (cGMP) established by the FDA.
This scientifically driven company also sponsors numerous educational events and seminars to support health education, which is critical to advancing new information and scientific research in the healthcare supplement industry.
We also admire Apex Energetics' industry-leading commitment to purity, performance, and quality professional products. On their website, you can explore more about this company's unique, health-forward approach to supplements.
Discover Apex Energetics Supplements

Ready for improved digestive health? Get to know Apex Energetics' HCL Pro-Zyme™ for digestive support - now available in-store or online at Martin's Wellness.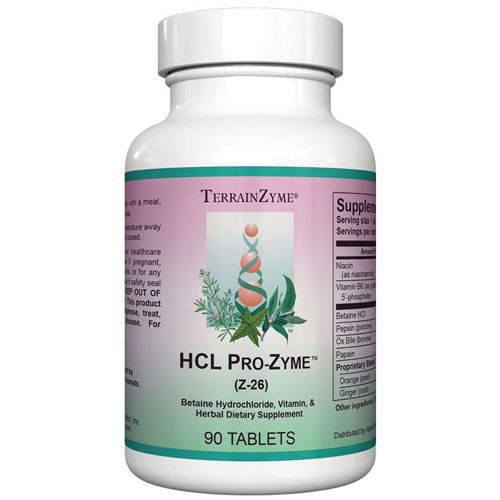 HCl Pro-Zyme 90 Tabs Z-26
---
This scientifically-formulated supplement supports the digestive processes with Betaine HCl and a proprietary blend of key ingredients, including gentian, peppermint, cardamom, and dandelion. This unique formulation is also an excellent source of vitamins B3 and B6.
If you have questions about HCL Pro-Zyme™ or any of the Apex Energetics scientifically-derived formulas, one of our wellness consultants will be happy to help.
Contact us today