R1 Plant Protein Frozen Banana
Get 20g of Vegan-Friendly Protein with R1 Plant Protein™ from Martin's Wellness Pharmacy. Formulated for those who want extra protein without animal products, R1 Plant Protein™ contains all 9 essential amino acids (EAAs).†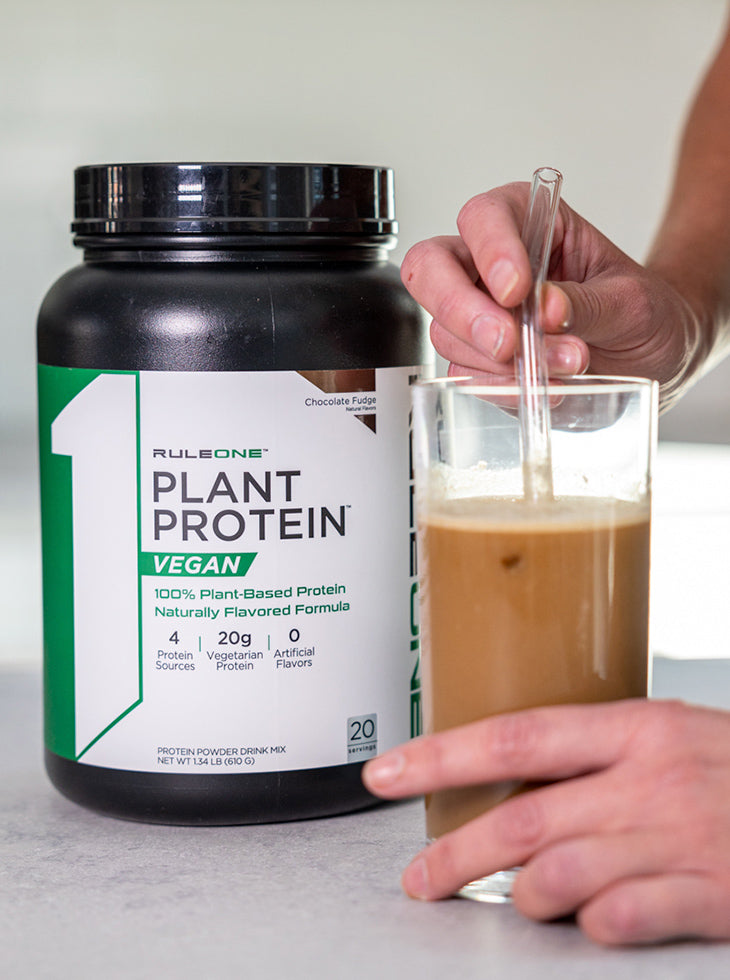 R1 Plant Protein: Power Your Body with Vegan-Friendly Nutrition
What It Is: R1 Plant Protein is a vegan-friendly protein supplement that offers a 100% plant-based formula, providing you with 20g of complete protein. It combines pea protein with a blend of different seed proteins to deliver serious nutrition for individuals seeking alternative protein sources.
Ingredients:
Dairy Protein Alternative: R1 Plant Protein is the perfect choice for vegetarians, those temporarily avoiding animal products, or individuals looking to incorporate more plant-based foods into their diet. It offers high-quality vegan protein sourced from a blend of pea protein and seed proteins, including sunflower, pumpkin, and watermelon.
20g Plant-Based Protein: Each serving of R1 Plant Protein supplies you with 20g of plant-based protein, offering a substantial nutrient boost to support an active lifestyle.
4 Different Protein Sources: The unique combination of pea protein, sunflower seed protein, pumpkin seed protein, and watermelon seed protein ensures a comprehensive amino acid profile and optimal protein diversity.
Provides 9 Essential Amino Acids (EAAs): R1 Plant Protein contains all 9 essential amino acids (EAAs), crucial for supporting muscle recovery and growth.
Prebiotic Fiber: This plant protein formula includes prebiotic fiber, supporting digestive health and overall well-being.
Vegan- and Paleo-Friendly: R1 Plant Protein is suitable for vegans and adheres to paleo dietary principles, catering to a wide range of dietary preferences.
Sweetened with Stevia Leaf Extract: To enhance the taste naturally, R1 Plant Protein is sweetened with stevia leaf extract, providing a delightful flavor without the need for artificial sweeteners.
How to Use It: To enjoy the benefits of R1 Plant Protein, follow these simple instructions:
Take one (1) heaping scoop of R1 Plant Protein and add it to 8-10 oz. of water, plant milk, or fruit juice in a shaker cup or a large glass.
Shake vigorously or stir until the powder is fully dissolved.
Drink and experience the nourishing power of R1 Plant Protein, ideally after workouts for recovery, between meals as a high-protein snack, or at bedtime to support your body's regeneration.
R1 Plant Protein is your go-to protein solution for individuals seeking vegan-friendly nutrition and alternative protein sources. With its exceptional blend of plant-based proteins, essential amino acids, and digestive support, R1 Plant Protein fuels your body to perform at its best. Embrace the power of plant-based nutrition with R1 Plant Protein and unlock your full potential.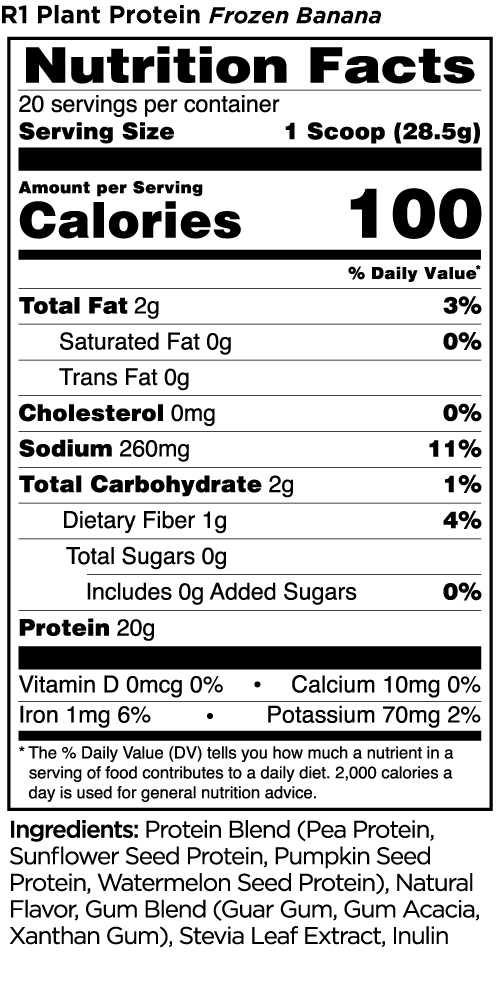 More Information

| | |
| --- | --- |
| Flavor | Frozen Banana |
| Size | 20 Servings |